Colugo Stroller Review: A Complete Ride at $445
One-hand maneuver
Easy folding
Great sun protection
100-days trial period
1
Colugo: Made for Parents
Colugo brand is a new name in the industry. The Colugo company was started in 2017 with the main aim of giving new parents the opportunity to go on an adventure without having to think about the obstacles they will face with a normal stroller.
The Colugo strollers are thoughtfully designed for the parents by the parents. Colugo owners Ted & Christy decided to start this company when they were blessed with twins and faced many difficulties with the strollers they were then using. The most common problems in strollers are their inability to take smooth turns, handle a bumpy ride, and high cost.
---
2
Colugo: A Direct-to-Customer Product
Buy on Amazon
Colugo is yet another direct-to-customer company that helps parents to cut the cost of middlemen; like the retail stores, Amazon, or any other stroller stores. The reason DTC companies are in vogue right now because they provide high-quality products at a reasonable price and with a long trial period.
It is obvious that parents get a lot of options when they shop around for bay products. The more they look, the more they get confused. As new parents, it mostly happens that you end up buying a costly stroller with not-so-great features because you want to give your baby the best.
This is the reason I am writing a detailed review of one of our favorite products.
---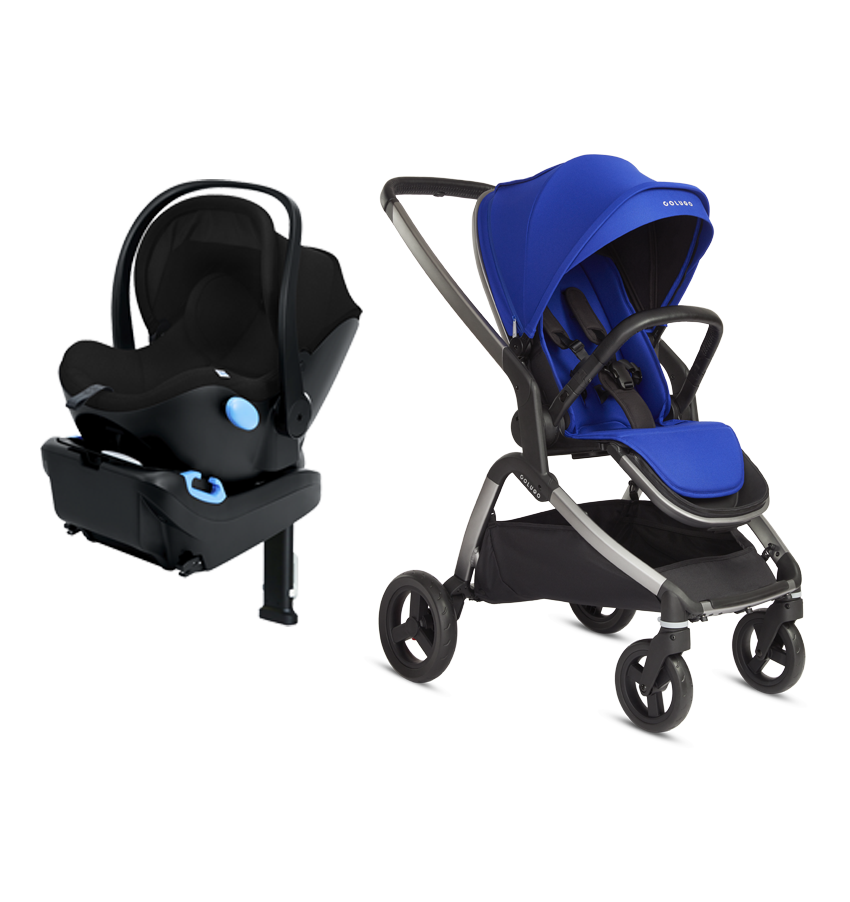 Travel System by Colugo
Leading Edge Design | Best Safety Features| Best Price
The Complete Travel System by Colugo
Colugo offers a complete travel system that includes a stroller, infant kit, infant car seat, and universal car seat adapter. They have partnered with Clek Liing company who is known for its extra comfortable infant seats.
They're also easy to install and designed with thoughtful features like a convenient one-handed quick-release, an SPF 100+ canopy that extends for near-full coverage, and a peekaboo window that enhances airflow to help keep your newborn comfortable, making on-the-go effortless.
---
3
Colugo: The Complete Stroller
Colugo is a company that keeps parent's reviews as a top consideration. This can be seen in the Complete Stroller that was launched in 2019. This stroller can carry a maximum weight of up to 55 pounds with ease. This stroller comes with a 100-day trial period during which you can return the stroller if found unsuitable to your taste or to your child's discomfort.
The Colugo stroller is easy to fold, reclines up to 175º for flat laying, car seat compatible, shock-absorbing all-wheel suspension, and 5-point harness with magnetic cable.
---
4
Colugo Stroller Features
Convertible Bassinet
The most notable characteristic of this stroller is its convertible bassinet. From a baby to an infant to a toddler; a parent needs to move from bassinet to stroller seat.  No separate accessories are needed with Colugo's Complete stroller special feature: 175-degree reclining bassinet.
Seat facing
As it is very much important for strollers to provide a scope of a lookout for the babies, this stroller provides dual-facing for your child (front and rear-facing) depending on your needs.
Lightweight Frame
As compared to all its Market peers of full-frame strollers which normally weigh more than 25 pounds, the Colugo stroller (frame + seat) weighs about 24.5 pounds. The frame itself weighs only about 15 pounds.
Folding Ease
The colugo complete stroller comes with an easy mechanism for folding. It only takes one click and two folds for you to pack this stroller away when not in use or when you are on the move.
Sun Canopy
Colugo understands the importance of shielding your baby from harmful UV rays. Hence, with the usage of a well-ventilated UPF 50+ canopy combined with a mesh window, they see to it that your baby can sleep well on sunny days.
All-Terrain movement
One of the major factors that impede a new parent while buying a stroller is the ease in movement on different terrains without a jerk or disturbing a baby's sleep. The no-puncture tires made from EVA-rubber blend and the all-wheel suspension, both combined are capable of maneuvering on different terrains like grass, cobblestone, curb et al.
Dimensions
The stroller dimensions while folded with the seat is 20"x23.5"x28.5" and while being folded without a seat is 14"x23.5"x28.5" and its unfolded dimensions are 37.5"x23.5"x41.25" These dimensions shows that how easy it is to travel with this stroller while you are on the move.
---
Accessories
The accessories included in the package comprises PVC free Rain Cover which shields a baby fully from rain and a Cup Holder.
Storage space: Colugo provides a big basket space of dimension 22″x17″x6.5″ capable of carrying up to 22 lbs. This is more than enough for keeping all the basic essentials of your baby.
Economy: Being a DTC, Colugo provides this conversion kit at about 50$. This is still better than the existing bassinets in the market which cost around three to five times. A new parent would no more be hounded by their baby's growth.
All Styles assortment: The Colugo complete stroller comes in shades of 5 colors which are blue, olive, black floral, black, and rose sparkle. You and your baby will always be in trend with the Colugo complete stroller.
---
With its 100-day trial period, you can easily make a good judgment about whether you need to keep it or return it. The advantages of DTC is that as a parent, you can directly give voice to your questions, concerns, and can be sure that you will be answered back in a befitting manner.  Also, the rates prevalent in the market for the commercially available brands are about 30% costlier than Colugo's complete stroller at 445$ which makes it one of the top choices for the new parents to select from.
That being said, we have tried to list the all-round aspects of Colugo's complete stroller so that you may get an idea of one of the strollers that are topping the market. We want nothing but the best for you and your tiny tot.
Luxury Stroller with Exceptional Quality
A good looking premium stroller by parents for the parents. One-hand fold, all-wheel suspension, UV 50+ canopy and more.
PROS
One-hand maneuver
Easy folding
Great sun protection
100-days trial period
CONS
No cupholder & no snack tray
Height of the handle
Small storage space