Is wanderlust your cup of coffee? Are you canceling your plans because you just had a baby and not sure how to travel?  For many new parents managing babies alongside travel makes it tough to enjoy the view. While it might seem tough, proper planning and apt kid gears can make your travel fun.
Let it be a quick visit to your near & dear ones or a long trip overseas with your checklist, the right travel stroller will make your trip smooth for you and your baby. But selecting the perfect stroller from the many available options is a daunting job.
Larktale Chit Chat
Compact Lightweight Travel Stroller
Before you buy a stroller, you need to consider some mandatory features in a stroller to find the most suitable one. Few features that you need to keep your eyes open for are:
Lightweight – It is best to buy a lightweight travel stroller as sometimes you might have to carry it on your shoulder. (e.g. at the airport before boarding, escalators)
Quick-Fold – A quick folding stroller will ease out things when you are in a hurry and will also save time.
Safety – A stroller must have a good braking system and the one that meets all safety standards.
Canopy – A good quality canopy that keeps your baby safe from harmful UV rays and bad weather is a must.
Keeping this in mind, we present to you the list of 2020's top 5 travel strollers:
Mountain Buggy Nano Stroller
Weight: 44 lbs
Folded Dimensions: 12 x 22 x 20 inches
A perfect combination of both travel system and a travel stroller, Mountain buggy nano stroller is one of the best choices for you. It comes with easy portability characteristics. The latest-model brings out more features like deeper recline, greater canopy coverage, flip-out visor, ultra slimline wheels.
It is also suitable for an infant car seat as it comes with an adapter to suit top car seat brands. A top model for 'on the go' choices, this stroller can be used right from birth up to the age of 4 years. A bit on the pricier end but worth all your pennies.
Features:
Infant Car-seat Ready: The mountain buggy nano comes with a travel system, making it easier to use it as a stroller as well as readily fits in the car seat without any special adapter.
Compact Fold: As easy as it is to fold the stroller, it turns into a small carry-on size item for planes that can be placed in the overhead bin or under the plane seat. It can be held with one hand and doesn't take much space in a car.
Travel Bag: When you don't use the stroller, you can fold it and put it in the travel bag that it comes with.
Extras: Additional cocoon sold separately for newborns who can be laid flat in the stroller for their utmost comfort.

We have spent untold amounts of money on an Uppababy Cruz, the Mesa, the Travelbag, and a million other accessories. And I do love my UB system. However, for every day, leave in the trunk, whip out for a grocery run stroller, I think the Mountainbuggy Nano just can't be beaten in terms of weight, profile (fits in the overhead compartment of an airplane? yes please!) and ease of use.

Summer 3Dlite Convenience Stroller
Weight limit: 50 lbs
Folded dimensions: 42 x 14.75 x 12.5 inches
This travel stroller is yet another top-notch one on the list. With features that make it usable for daily use as well as a travel stroller. The summer 3Dlite+ convenience stroller brings out the best in your baby for a small stroll or a long journey.
With its compact fold feature and padded carry strap, traveling has become easier for couples with a child. Also, with its comfortable features such as reclining seats, oversized canopy, babies feel happy and cozy.
Features:
Umbrella Canopy: The 3Dlite+ model has shade protection and a huge canopy that covers more than half of the seat like an umbrella. It fastens in the back and has a peekaboo window to check on your baby from time to time.
Storage: A big enough basket storage in the back is a great feature for a travel stroller. Apart from that this stroller also includes a parent cup holder, cell-phone holder, zipped storage basket, and a sippy-cup holder.
Auto-lock: This travel stroller is easy to open & close, folds compactly, and locks automatically. The front wheels are anti-shock and the rear wheels are lockable.
Summer Infant
Lightweight Umbrella Stroller with Oversized Canopy
GB Pockit Lightweight Stroller
Weight limit: 55 lbs
Folded dimensions: 11.8 x 7 x 13.8 inches
With record-holding folded dimensions, GB Pockit Lightweight Stroller is the most compact stroller on the list. Yet even with its small stature, it is strong enough and suitable to hold a child of about 6 months till they reach 55 pounds.
As a minimalistic stroller, it has a small overhead canopy. But combined with its other features which include one-hand steering, lockable front wheels, lightweight aluminum frame, it doesn't lose out to any other stroller on the list. The seat reclines for the baby's comfort as well. Just with its ease in compacting, this travel stroller is baby worthy.
Features:
World's Smallest Stroller: Holding a Guinness World Record, this travel stroller folds into the smallest compact size for ultra-luxury. Even though it's a small stroller, it is very sturdy. Made in high-quality polyester, the fabric is durable and can hold a 55lbs baby.
Compact Fold: In only two steps the stroller becomes a compact and feather-light handbag shaped package (9.5 lbs), great for when you are on the move and practical and easy to stow away when you're not.
Adjustable Harness: The GB Pockit comes with an adjustable safety belt and comfortable padded straps that can be fastened or loosened easily as per the baby's requirement.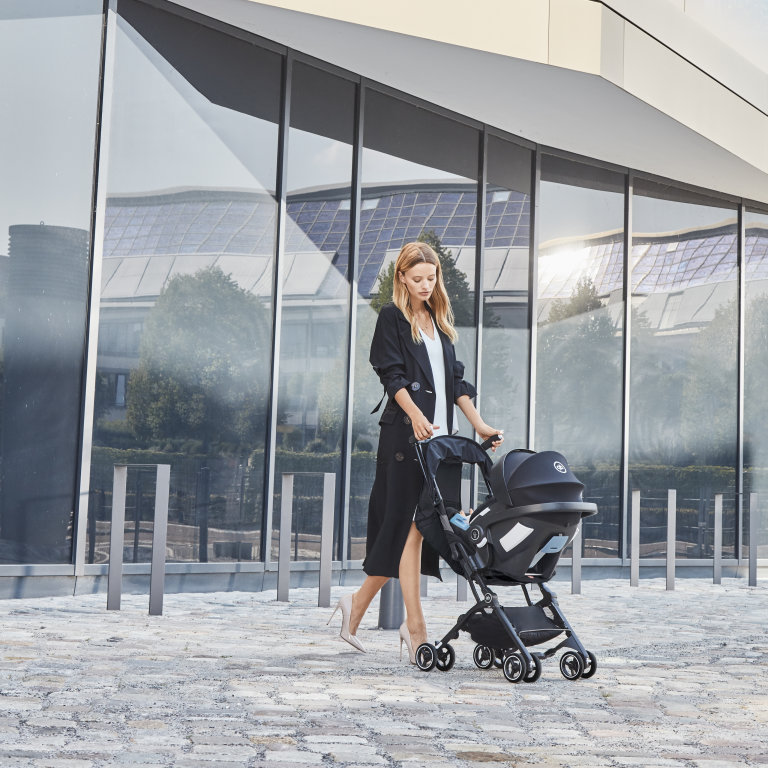 GB Pockit
WORLD'S SMALLEST FOLDING STROLLER
Super light and very practical, I love her. It fits up on the plane, so it won't hurt you. And to take taxis is made mini and does not interfere, The roof almost does not give shade but with shade extender is perfect, the basket below is very small fits almost nothing, but I hung the bag on the handles, very good and solid, easy to handle on bad streets, has suspension.

The Clutch Stroller by Delta Children
Weight limit: 50 lbs
Folded dimensions: 15 x 5.9 x 19.7 inches
The clutch stroller by Delta Children is one of the most eye-catching strollers in this list, being available in exuberant colors. Though extremely lightweight, this stroller can carry up to 50 lbs. Its most notable feature is its 5-point safety harness which is made from high-quality fiber and includes reflective pads to maintain stroller visibility at night.
Being JPMA certified this stroller meets all your safety needs for your toddler. This travel stroller also has swiveling front wheels with suspension which helps in a less bumpy ride and a smooth nap for your baby. All in all, this stroller is an ace choice when it comes to giving the best to your child.
Features:
Fold & Go: The Clutch is exactly like its name; lightweight and easy to carry in the travel bag (included) on day trips and vacations. Open and close it in one step.
Compact Folding: This travel stroller folds up so small that it can be fit into a plane's overhead bin and on subways. While taking very little space in your car, it is one of the best travel-friendly strollers.
5-point Harness: The small stroller comes with a quality safety belt. A 5-point harness assures your baby's safety. It also comes with reflective shoulder pads that can be seen at night.
Storage: It has undercarriage storage that can hold all the baby essentials and your purse too.
Clutch Stroller by Delta Children
Lightweight Compact Folding Stroller
The Traveller by Zoe
Weight limit: 50 lbs
Folded dimensions: 22 x 17.5 x 6 inches
The Traveller stroller is by far the most liked travel stroller. Not only is lightweight but it also has an umbrella canopy, Disney approved size, and airplane ready. It has an easy fold and unfold button that can be used in one click.
Made with the best quality fabric, this travel stroller puts your baby in deep comfort. The 4-panel canopy has a magnetic peekaboo window. The recline is deep and the padded seat comes with a padded footrest that is also adjustable.
Features:
Canopy: A huge 4-panel umbrella canopy protects your baby from bad weather as well as sun. A magnetic peekaboo window helps you check your baby from time to time.
Storage: The traveler stroller has elastic undercarriage storage that can easily hold all baby essentials.
One-hand Fold: A trigger button can easily fold and unfold the stroller. There is a hidden strap that you can pull to release the stroller.
Travel Ready: It has a tall handle height, can be folded and carried as a backpack, and can be placed into an overhead bin in a plane.
Colors: Comes in 8 different shades.
The Traveler by Zoe
Lightweight Travel and Umbrella Canopy Stroller
To Conclude:
Picking up strollers for your suitability in the vast ocean of available options is an art in itself. We have tried to list down the most important aspects and thereby narrow down your selection range. Fanciness apart, take into consideration all the points that you might need to meet so that you can pick up the best stroller from out there and give yourself and your baby a hassle-free travel experience.